A neck cushion full of sensations. This soft neck cushion is designed to enjoy all the features of beMyBuddy during moments of rest and travel: in pushchairs, hammocks, sofas, cars, etc. Just place the beMybuddy module inside it to enjoy endless customisable features that will strengthen your baby's cognitive development and your parental bond, always in comfort and safety.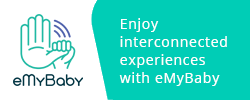 The most sonorous neck cushion!
This soft neck cushion is designed to enjoy all the functionalities of beMyBuddy. Simply inserting the extractable module connected to the mobile device into the cushion, the baby will enjoy a great source of emotions and sensations!
Babies will always feel their parents close!
The use of this neck cushion together with the extractable beMyBuddy module will ensure the baby will always feel its parents close. With eMyBaby®  and their mobile device, the parents will be able to record the baby' s favourite songs and stories with their voice, strengthening parent-baby bonds. Moreover, they will have the possibility of playing songs and sounds specially designed for babies: sounds from the maternal womb and heart, from nature, classical melodies, traditional lullabies, and the music stored on the parents'  mobile device.
Ergonomics for maximum comfort and safety
The ergonomic shape of the cushion adapts to the baby' s neck, providing full support for the delicate head and cervical region, thereby guaranteeing the baby always travels in a comfortable and safe manner.
Walks and trips in good company
beMybuddy traveling ensures your baby can travel in its car seat in maximum comfort together with its little elephant. Furthermore, it can be used on a daily basis in the pram or rocking chair.
Maximum softness with the 100% organic cotton surface
Its smooth and soft texture and 100% organic cotton and environmentally-friendly surface will make the baby feel very comfortable.
More Information

| | |
| --- | --- |
| Product name | beMyBuddy traveling |
| Recommended age | 0+ Months |
| eMyBaby | Yes |
| Collections | Bonds with beMyBuddy, eMyBaby connected |
| Core Skills | Stuffed animals and cushions |